Brotherhood and Sisterhood Leadership Development Program
Leadership Development is a school-based program designed to cultivate self-awareness, self-control, and leadership qualities while eliminating negative behaviors of participants. This program is aimed specifically for students during their critical transition years/ages in middle and high school respectively.
This program provides programs in a school setting giving students resources on substance abuse prevention, anti-bullying strategies, college access goals, gang prevention, and smoking cessation. Most importantly, the program provides daily case managers for youth and opportunities to speak with mentors about a variety of issues impacting their lives.
For more information about this program, call the office at (301) 420-7395.
Leadership Development Zoom Series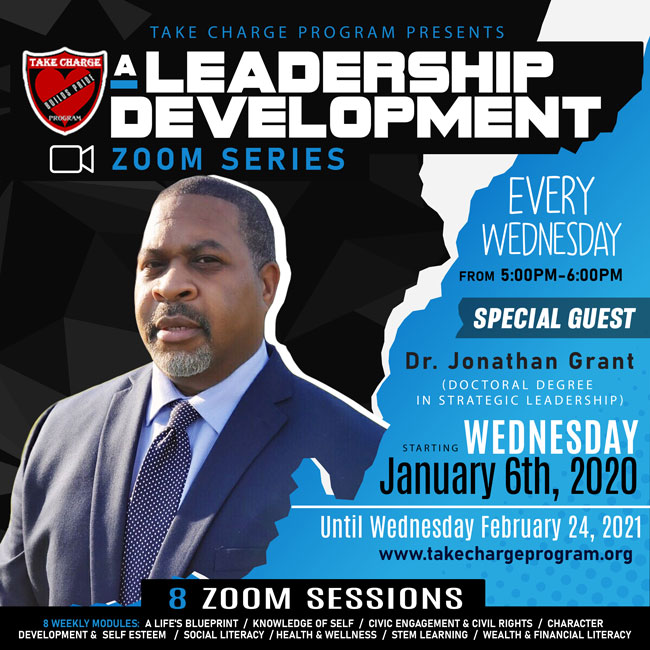 Register here for our eight (8) week module zoom series. Topics include:
A Life's Blueprint
Knowledge of Self
Civic Engagement& Civil Rights
Character Development & Self-esteem
Social Literacy
Health & Wellness
STEM Learning
Wealth & Financial Literacy
You are invited to a Zoom webinar.
When: Jan 6, 2021, 05:00 PM Eastern Time (US and Canada)
Topic: Take Charge Program Leadership Series
Register in advance for this webinar:
https://us02web.zoom.us/webinar/register/WN_-goLKDdnR1mjpHpt71515g
After registering, you will receive a confirmation email containing information about joining the webinar.